Year One: Step-Up Challenge
Increased physical activity with competition and satisfied troop leaders!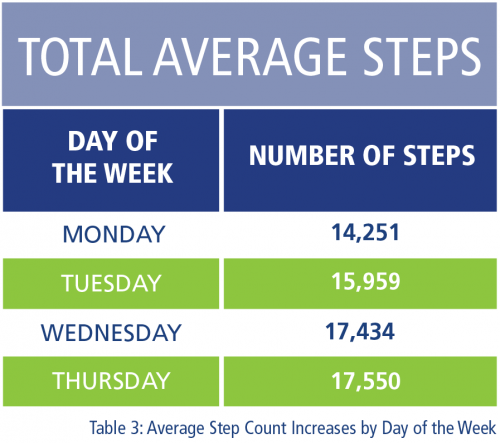 Preparation

Purchase pedometers for the Scouts to buy.
Stock pedometers in the Trading Post and sell them for $4-$5 (purchase price for branded pedometers is approximately $3 each).
Purchase logo'ed pedometers to sell in the Trading Post (approx. $3 each). Order the SM2000 pedometer from
Pedometers USA. Our contact person is Katie, p: 215-259-2700. The reference proof is #32941.
Print and stock Step-Up badge worksheets at the Trading Post. These should be distributed with
pedometers or with proof of a step tracking device.
Step Up Badge (order this through camp's vendor of choice).

Implementation

Treat pedometers as a badge and sell them with the Step-Up badge worksheets
Have Scouts complete the Step-Up badge worksheet and verify completion with badge counselor to obtain the badge.
Order badges four weeks before camp begins.
Distribute pedometers to all staff, campers and leaders or treat the pedometers as a badge and sell with the Step-Up badge worksheet
Have troop leaders add up the daily steps each day for their troop. Divide the total daily steps by number of campers and leaders participating to get the troop's average daily step count.
Have each troop record their average daily step count on a white board in the dining hall.
Allow the troop that has the highest average daily step count to be first in line at the dining hall for each meal the following day.

Items for consideration during Step-Up Challenge implementation:

Collect step count evaluation forms at the end of each week.
Individual Step-Up Challenge

Budget considerations include: whiteboard/markers for troop competition, pedometers.

Badge Standards

Campers must average 16,000 steps/day while at camp to qualify for the badge. Steps should be verified daily by the troop leader against a pedometer, Fitbit®, or other tracking device, and reset prior to the following day.

If Scouts already have a Fitbit® or other step counting device, they can obtain a Step-Up badge worksheet with proof of device.

Scouts should describe ways in which they can be more active at school and at home.
Scouts should describe ways in which they can help their family be more active: identify parks, hiking trails, pools, plan more active holiday traditions, etc.
Scouts should make a plan to continue physical activity for the following year.
Fill out the Step-Up badge worksheet and have a badge counselor verify completion of step-up badge.