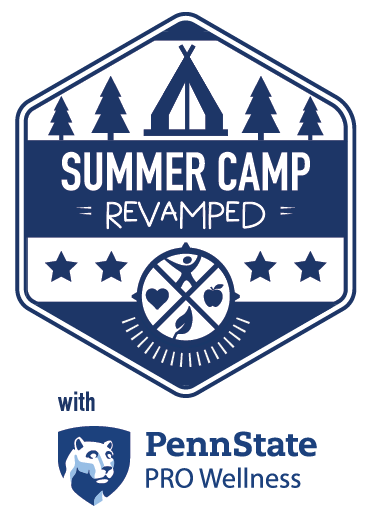 Promotional Resources
Thank you for actively participating in Boy Scouts of America Summer Camp Revamped initiatives! With your enrollment, you have gained access to various promotional resources supporting your efforts. Within this section you will find printable dining hall posters, newsletter snippets, social media content and other program resources.
Logo
Download the Summer Camp Revamped logo for use on promotional materials. If you need additional file formats, please email COMPASS@pennstatehealth.psu.edu.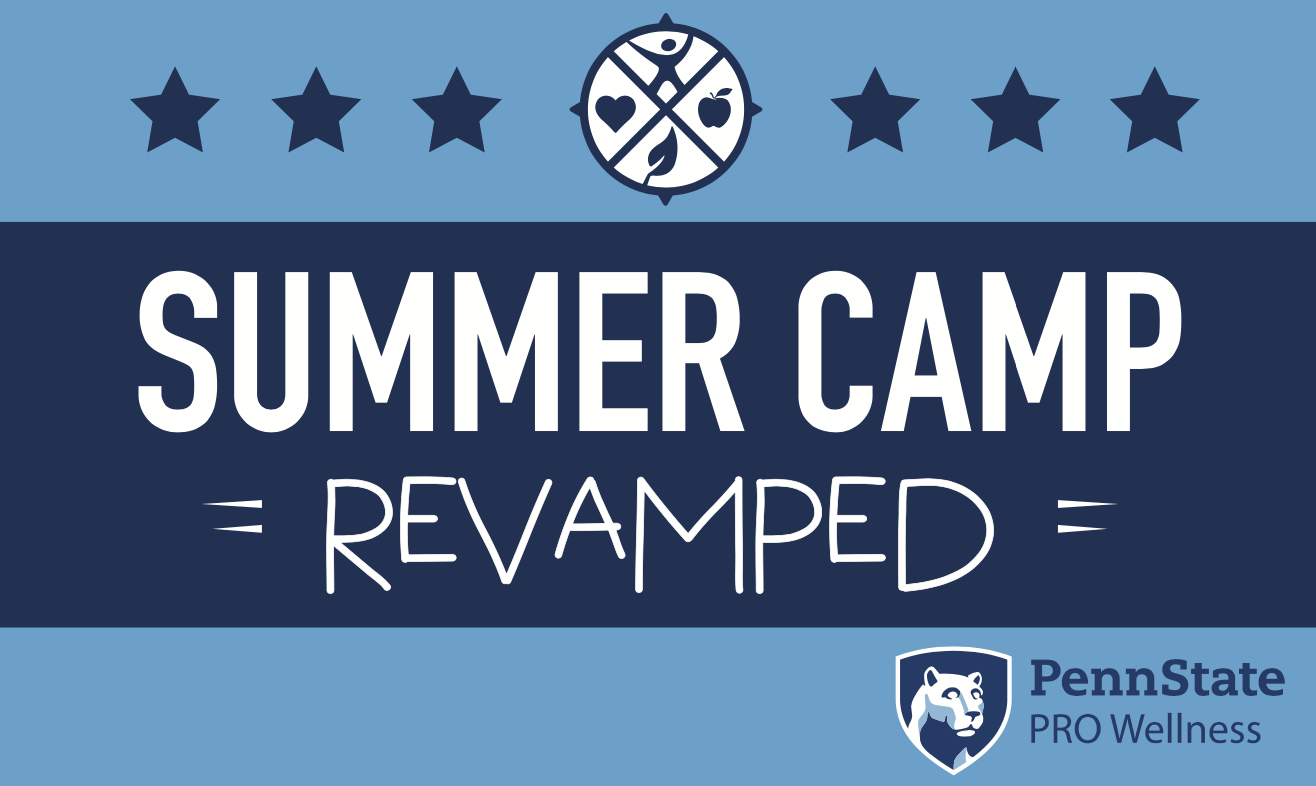 Flag Artwork
Penn State PRO Wellness has designed a flag to be displayed at your camp if desired. Please feel free to download the file to print at a chosen vendor in your region.
Newsletters & Print Resources
PRO Wellness has developed newsletters to promote the good work being done at Boy Scout camps across the United States. Please feel free to repurpose any of the content or resources listed for placement in your own materials. If you would like any artwork files listed, please contact COMPASS@pennstatehealth.psu.edu.
Social Media Resources
Let's put BSA Summer Camp Revamped on the map by spreading the message with hashtag    #BSACampRevamped.
Use these sample coil media posts to spread #BSACampRevamped news:
Excited to announce that we are #BSACampRevamped certified for Summer ____! Thanks to Penn State PRO Wellness, our camp will offer tasty AND nutritious options at our Trading Post and in the Dining Hall.
Join our summer challenge and get your troop on the scoreboard! We'll be launching a Step-Up Challenge where scouts can join in ACTIVE fun, TRACK their fun, and SCORE a Step Up badge (or maybe an old smelly boot trophy). #BSACampRevamped
We're on the whole grain train! Proud to share that half of our served grains will be whole grain this summer! Fun Fact: Did you know? Not only are whole grains heart-healthy but they also help with constipation? You're welcome! #BSACampRevamped
Got milk? We've got you covered! And we're skimming the fat this Summer by offering low-fat milk as part of our #BSACampRevamped certification. This change cuts fat and calories but doesn't reduce calcium or other essential nutrients scouts need.
Brighten that smile by crunching an apple. Commonly referred to as 'nature's toothbrush,' apples can cleanse your mouth of more than 95% of the bacteria that cause tooth decay. #BSACampRevamped has us all smiling bright as we proudly offer scouts a variety of fruits 3 times/day.
Lettuce celebrate! We offer veggies on the daily as part of our #BSACampRevamped 
certification. Give peas a chance and go for the greens at camp this summer!
Every day we're guzzlin'! Rethink your drink at camp and choose from a variety of our newly added low and no-sugar options. #BSACampRevamped