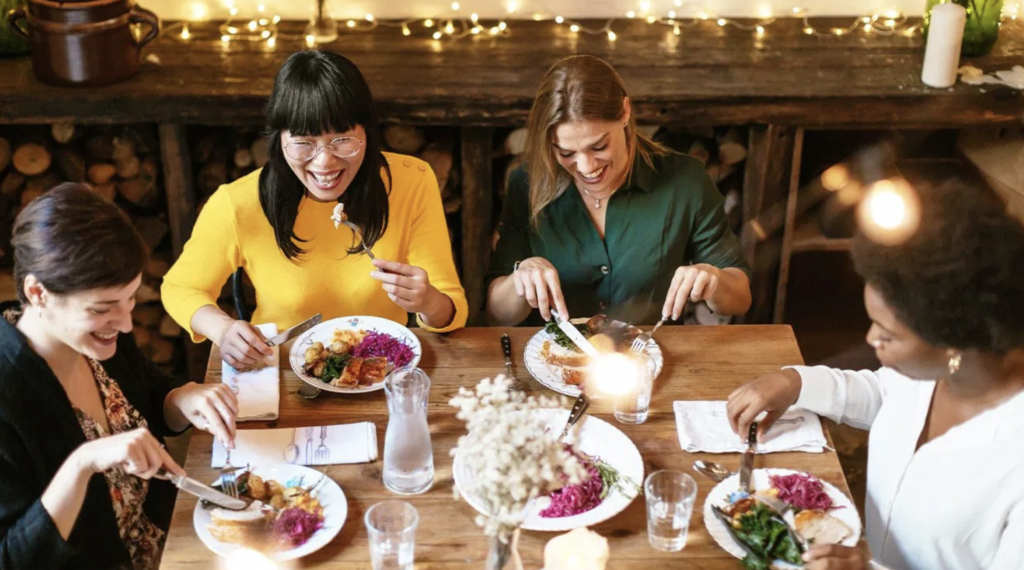 Research shows the average person will gain 0.82 pounds during the Thanksgiving and Christmas holidays.
Nutritionists say there's much we can do to prevent overeating during this time of the year.
Being aware of what a healthy portion size looks like can help. Changing your cooking methods and making healthier substitutions will go a long way as well.
Thanksgiving is notorious for being a holiday when many of us overindulge in our favorite fatty and sugary comfort foods.
"Which, if it's just one day, isn't all that bad," noted Shereen Jegtvig, a nutritionist at the University of Bridgeport in Connecticut.
However, she points out that often, "the problem is that Thanksgiving is just the beginning of the holiday feeding frenzy."
In fact, a 2016 study reported that the average American's weight increases by 0.2 percent over Thanksgiving and 0.4 percent over Christmas. The study further noted that the average person gains about 1 pound each holiday season.
While this may not seem like much, researchers say we often don't lose this gain after the holidays, leading to creeping weight gain.
It doesn't have to be this way, though. By keeping an eye on portion sizes and choosing healthier options, we can enjoy our Thanksgiving meal without the worry of potential weight gain.
What is a healthy portion size for your favorite Thanksgiving foods?
Regarding portion sizes, Jegtvig points out that serving size and portion size aren't necessarily the same thing.
The serving size is a fixed amount — for example, 1/2 cup — that's used to calculate the number of calories in a particular item.
The portion size, however, is how much you choose to eat of that item.
So, the portion size might be equivalent to several servings, depending how much you choose to eat.
Eating healthier, then, is about making better choices in how we prepare foods as well as eating portion sizes that are appropriate for our personal nutritional needs.
Jegtvig suggests that the serving size is often a good starting point in judging what's a healthy portion size.
The following information can be used as a guide to help you select healthy portion sizes for several popular Thanksgiving dishes, but your individual needs will vary.
Unless otherwise stated, calorie ranges are estimated based upon data from the Department of AgricultureTrusted Source.
Original source: https://www.healthline.com/health-news/healthy-portion-sizes-for-10-thanksgiving-favorites#What-is-a-healthy-portion-size-for-your-favorite-Thanksgiving-foods?