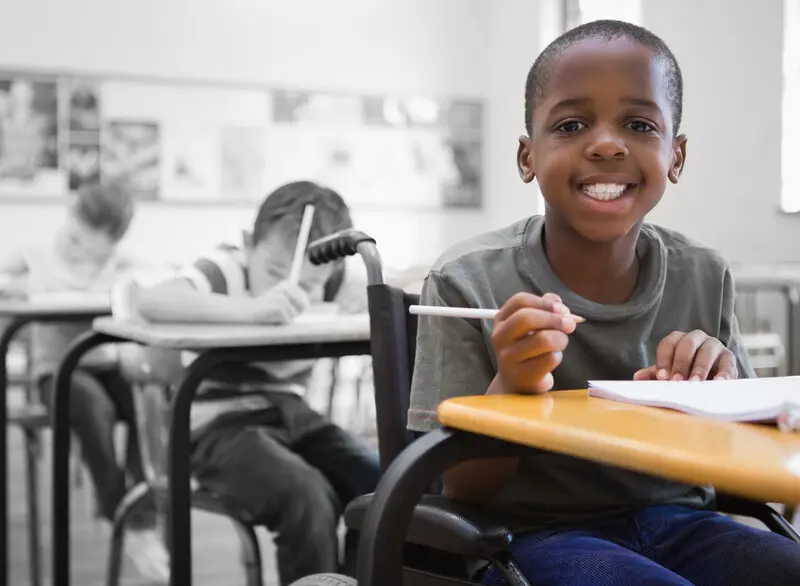 Is something wrong with the way we're teaching boys? One elementary school thought so and decided to implement boy-friendly strategies that produced remarkable results.
Boys who don't read or write as well as we'd like come in all kinds. There's Garrett, who's perpetually in motion, his fingers drumming the desk. He's not focusing on his reading and pokes the student in front of him. He's becoming a discipline problem. There's Jared, who stares into space, failing to fill more than a few short lines with words. There's Dan, who turns in rushed and sloppy work and receives failing grades. When it comes to fulfilling the kinds of assignments that we call "literacy," boys are often out of their chairs rather than in them.
At Douglass Elementary School, in Boulder, Colorado, a significant literacy gap existed among the 470 students. On the 2005 Colorado State Assessment Program (CSAP), boys attending Douglass underperformed the girls in grades 3–5 (the boys' scores ranged from 6–21 points lower, with a 13-point gap overall). Because boys represented at least half the student population at every grade level—and 75 percent of the special education population—it was clear that the gender gap had powerful implications for the school as a whole and for the futures of the students.
In looking closely at these statistics, the staff suspected that Douglass was not alone in facing classrooms full of boys who were not learning to read and write as well as the girls were. In fact, all over the world boys are struggling in school, with lower grades, more discipline problems, more learning disabilities, and more behavior disorders than girls (Gurian & Stevens, 2005). As experienced teachers of boys, as parents of sons, and as professionals charged with solving a specific and compelling problem, the educators at Douglass went to work. They discovered that recent brain research backed up many of their intuitions about gender and learning styles (see Gurian, Henley, & Trueman, 2001).
By introducing more boy-friendly teaching strategies in the classroom, the school was able to close the gender gap in just one year. At the same time, girls' reading and writing performance improved.
On the Colorado State Assessment Program, Douglass Elementary students experienced an overall net percentage gain of 21.9, which was the highest achievement gain of any school in the Boulder Valley School District. Moreover, Douglass reversed the typical trend of girls outperforming boys: The boys experienced a 24.4 percentage point gain in reading and writing; the girls a 19 percentage point gain, which constituted three times the gain of girls in other district elementary schools. Most remarkably, Douglass special education students achieved 7.5 times the average gain for this population of students in the district, coming in with a 50-point gain.