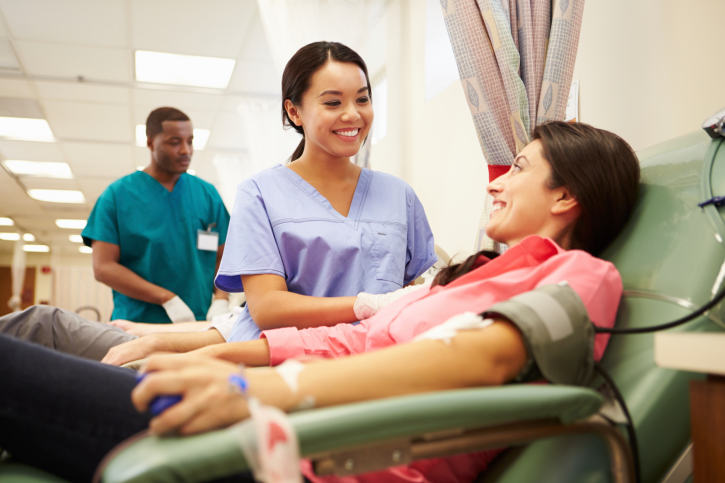 January is National Blood Donor Month, celebrating the efforts of people whose blood donations provide lifesaving support to millions of people in need. But for various reasons—including fear of needles, being too busy, thinking that they don't have enough blood to spare or that they are too old—only about 10% of the population actually donates blood. In most states, you only need to be 17 years old to donate blood; you should also be in good health and weigh at least 100 pounds.
If you have never considered donating blood, or if you have been making excuses as to why you shouldn't donate, stop to think about the many reasons why donating is a great idea. First, think of donating blood as a "gift of life" that a healthy individual can give to others who are injured or sick. It's pretty neat to think that your blood donation could actually save up to three lives! That's pretty good for just an hour of your time. It can help you feel good about yourself to know that your donation will make a positive difference in someone's life.
When you make a blood donation, you will help ensure that blood is available when you or someone else close to you needs it. This is especially true if you have the blood type O-. The O- type is called the universal donor because this blood type can be transfused to people of all blood types. Most of us don't think about needing blood, but it's comforting to know that there's a supply of it available when we or someone we love might need it. But in order for organizations like the American Red Cross to keep a blood supply on hand, people need to regularly donate blood.
And last but not least, don't forget about everyone's favorite part of donating blood–the free cookies and juice you get after you're all done! After doing your part to help ensure that blood is in good supply for those who need it, you certainly deserve a sweet treat.
Interested in donating blood? Visit RedCrossBlood.org to make an appointment to give blood at one of the many donation sites across the United States.
Original source https://blog.healthadvocate.com/2013/01/why-donate-blood/