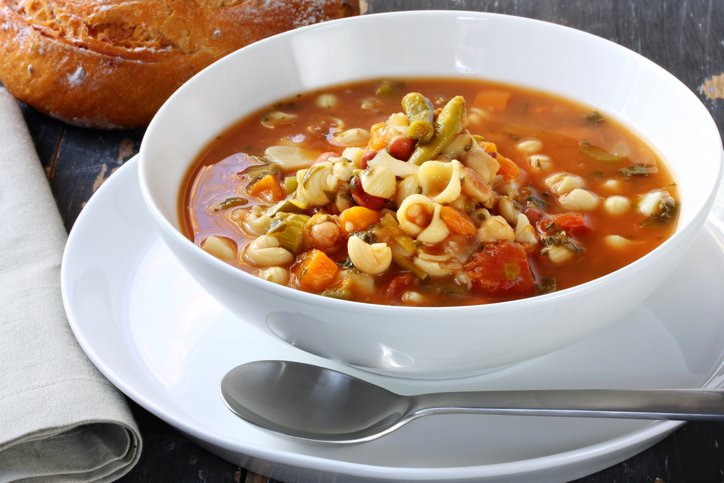 Winter is the perfect time of year to enjoy a nice warm bowl of soup. It's easy to grab a can of soup off of the grocery store shelf, but these convenient options are often laden with sodium and don't always taste so great. In recognition of national homemade soup day on February 4, we present to you a collection of healthy and tasty soup recipes. Fear not, soups may seem difficult to make, but they're actually quite easy to prepare, and generally only require one pot! Additionally, you can make one large pot and serve the soup all week long, or pack it for lunch.
Paprika & Red Pepper Soup with Pistachio Puree – This tasty recipe is high in vitamins A and C and low in calories—just 241 calories per serving!
Broccoli, Cannellini Bean & Cheddar Soup – It's difficult to find a low-calorie broccoli and cheddar soup that has the same creaminess as its full-calorie counterpart. This recipe is the solution, coming in at just 152 calories per servings—you'll be amazed at how creamy pureed cannellini beans can be!
Minestrone Soup – An Italian favorite, this delicious soup is good on its own and can be made even better by loading it up with additional vegetables such as spinach, broccoli, eggplant and zucchini!
Chunky Chicken Soup – You don't have to be sick to enjoy a bowl of chicken soup. This tasty soup is easy to prepare. Add whole grain pasta and double up the veggies for a nutritional boost!
Healthy Beef Soup – This hearty recipe includes kale, mushrooms, turnips and more! It is packed with protein and loaded with whole grains.
Crazy about the can? Make your favorite canned soups healthier!
Add some or all of these items to canned soups to boost their nutritional benefits.
Add leafy greens such as spinach and kale—they'll quickly wilt and you'll barely notice a taste difference.
Pack your soup full of protein by adding beans such as cannellini, kidney or garbanzo, just to name a few.
Leave room for legumes such as lentils!
Include some whole grains such as whole grain pasta, brown rice or wild rice.
Add some low- or no-sodium vegetable broth to dilute some of the sodium from the canned soup and add more nutrients.
Original Post: http://blog.healthadvocate.com/2018/02/warm-up-with-a-healthy-soup/