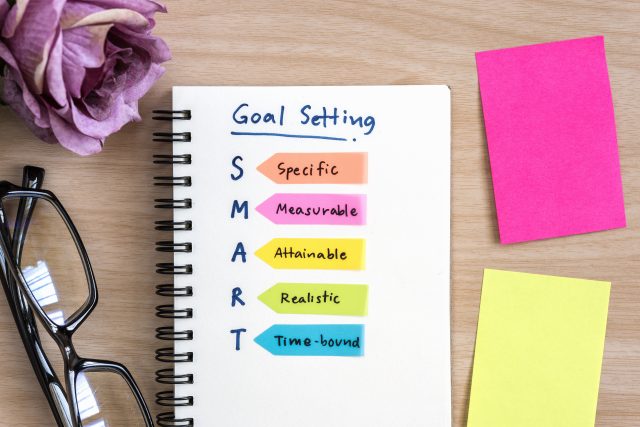 There are many ways to work on self-development and self-improvement, but setting specific goals for personal growth can increase your likelihood of success. When life serves up obstacles, as it so often does, having a goal that you revisit frequently helps you reset, recommit, and recharge.
It also gives you the motivation and accountability to stay focused and follow through on your plans. Setting goals can sometimes feel like a daunting task. That's why it's helpful to have a roadmap to guide you along the way.
Goal-Setting Theory 
Like most theories in psychology, goal-setting theory started with the ideas from Dr. Edwin A. Locke, in his article, Toward a Theory of Task Motivation and Incentives. In it, he explained the need for clear and specific goals that are challenging and monitored with regular feedback and progress.
Locke, along with Dr. Gary Latham, came up with five principles of effective goal setting. These principles, which include clarity, challenge, commitment, feedback, and task complexity, are the necessary components when setting, working towards, and achieving a goal.
Clarity: goals should be clear and well-defined.
Challenge: goals should be achievable but also challenging to you.
Commitment: you should fully commit to your goals to achieve them.
Feedback: you should regularly evaluate and reflect on your goals to stay on track.
Task complexity: you should give yourself time and space to reach complex goals.
Additionally, research done by psychology professor Dr. Gail Matthews points to an association between writing down your goals and eventual success rather than merely formulating and keeping them in your head.
How Motivated Are You?
If you've ever set a goal and quit before seeing any results, then you know all too well that it takes more than willpower to make a change. Licensed psychologist Catherine Jackson says setting and achieving goals requires motivation, thinking through the plan, and ways to navigate the possible challenges that may arise.
Original Source: https://www.verywellmind.com/tips-for-goal-setting-self-improvement-4688587