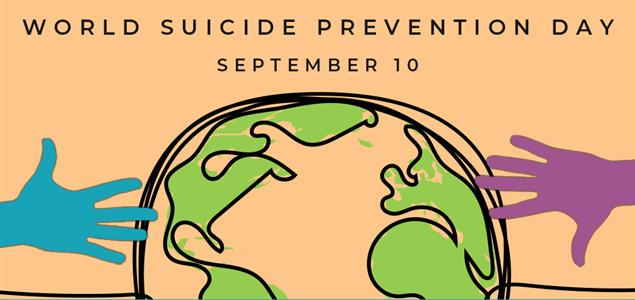 Please note: this School of Thought article discusses suicide. If you are struggling or know someone who is struggling, please call the National Suicide Prevention Lifeline at 1-800-273-8255 or call 911 immediately.
Every September marks Suicide Prevention Month. During this month, we increase awareness around suicide prevention and work to instill hope in communities. We believe that as part of that awareness and provision of hope, we must focus on education. Suicide is preventable and educating communities and schools on risk factors, warning signs, and how to have conversations with students, staff, or loved ones when they are struggling are an important part of that education. As we transition back into a new school year, reminding educators about resources that are available is also an important way to engage in suicide prevention. This September the theme of Suicide Prevention Month is Creating Hope through Action.
Data from the Pennsylvania Youth Survey has historically shown that students who feel safe in schools have fewer days of feeling depressed or sad and fewer suicidal thoughts and actions. This is consistent with studies showing students who have positive, supportive adult relationships have higher rates of resiliency and better relational outcomes. So what happens when we think about our youth following a year where a pandemic limited their interactions with adults in the school setting, and fewer students reported that they had someone to talk to about their stress and mental health? Emerging student response data from studies such as YouthTruth and The Trevor Project suggests that rates of depression, anxiety, suicidal ideation and suicide have risen among our young people. It is important to know that suicide affects all ages but suicide rates are higher for some youth, including American Indian/Alaska Native, females, white non-Hispanic students, non-Hispanic black, and students who identify as nonbinary or Lesbian, Gay, Bisexual, Transgender, or Questioning (LGBTQ+).
As we focus on Creating Hope through Action this September, we focus on what has been done throughout Pennsylvania, and what we as educators can do to raise awareness, educate, and inspire hope in our school communities. Everyone has a role in preventing suicide. Strategies such as building healthy learning environments; incorporating social and emotional learning that promote relationships and connectedness, and teaches coping and problem-solving skills; and discussing mental health supports in schools are some ways that educators can incorporate suicide prevention into their daily routine.
As part of our focus on decreasing stigma and raising awareness, the Pennsylvania Department of Education would like to highlight resources to support school communities as they engage in youth suicide prevention efforts.
2021 Suicide Prevention Month Guide: The Jana Marie Foundation, Aevidum, Prevent Suicide PA, Pennsylvania Network for Student Assistance Services (PNSAS), and Garrett Lee Smith Youth Suicide Prevention Grant developed a resource guide for schools and communities for National Suicide Prevention Month. The resource guide provides examples of activities that you can implement in schools or districts to raise awareness of the importance of suicide prevention.  The guide includes ideas for events, training, social media posts, virtual backgrounds, and more.
Suicide Prevention Online Learning Center: This free online training site has been developed to provide research-based and best practice information to those supporting youth with suicidal thoughts and behaviors, including educators. The Online Learning Center can be accessed by visiting pspalearning.com.
Youth Suicide Prevention for Educators Course and Facilitator Guides
The Youth Suicide Prevention for Educators course is an 8-module course that can be used to help schools meet Act 71 or Act 44 training requirements. The modules are available to view asynchronously or may be implemented interactively by a facilitator. To review the guidelines and expectations for facilitators, register as a facilitator, and access the guides and other necessary materials, please visit pspalearning.com/become-a-facilitator.
Additional newly developed courses include the following:
Concussions, Depression, and Suicidal Risk: Assessment and Clinical Management
An Introduction to Attachment-based Family Therapy for Suicidal Adolescents
School and Community-based Prevention Interventions to Prevent Adolescent Suicide
Managing Non-Suicidal Self-Injury in Teens
Prevent Suicide PA's Annual PSA Contest for High School Students: This year's contest will launch on September 20, 2021, and all submissions are due by December 15, 2021. Students are encouraged to develop and submit a PSA in 4 categories (poster, 30-second video, 60-second video, 15 or 30-second audio). Contest rules and submission guidelines can be found via: psa.preventsuicidepa.org/2022psa. Winning and honorable mention PSAs (e.g., posters, videos) from previous years are available for free and can be accessed by visiting: psa.preventsuicidepa.org.
Suicide Prevention Hotlines

PA Support & Referral Helpline: 1-855-284-2494
Crisis Text Line: Text PA to 741741
National Suicide Prevention Hotline: 1-800-273-TALK (8255)
Trevor Lifeline (LGBTQ): 866-488-7386
Trans Lifeline: 877-565-8860
For additional resources to support your school-based suicide prevention efforts, visit PDE's Act 71 page and Prevent Suicide PA's Act 71 page.
By working together, building partnerships, and establishing relationships, we all have a role in suicide prevention. Thank you for your continued efforts to prevent suicide among Pennsylvania's youth.
Original Source: https://www.education.pa.gov/SchoolofThought/Pages/Article.aspx?post=54