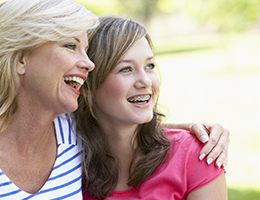 As teens grow up, parents have to walk a fine line between helping them navigate the world and encouraging them to stand on their own. And that's something many parents struggle with, according to a national survey of nearly 900 parents of teens.
While nearly all parents said they were trying to encourage their teens to become more independent, 1 in 4 blamed themselves for getting in the way. These parents said it was quicker and less of a hassle to do things themselves. Or they said they don't think about how to give their teen more responsibility.
Can teens take care of their own health?
Many parents said their teens' own characteristics were often the barrier, including:
Not being mature enough.
Not having time.
Not knowing enough.
And parents rated teens lowest when it came to taking charge of their own healthcare. That included basic tasks such as:
Taking care of minor injuries.
Figuring out the correct dose of medication.
Calling to make a doctor's appointment.
But researchers said it's crucial for teens to begin taking the lead in their health before adulthood. That can help them gain the experience and confidence to manage the more complex and varied tasks they'll face as adults.
What parents can do
Researchers urged parents to create more opportunities for teens to take the reins. To avoid costly or dangerous mistakes, parents can still be a safety net when needed. But giving kids the chance to practice adult skills is an important part of becoming mature enough to handle adult life.
The survey was conducted by the University of Michigan.
Do you want your teen to take a more active role in their healthcare? Here's some advice that can help get you off to a good start.
Original source: https://pennstatehershey.netreturns.biz/HealthInfo/Story.aspx?StoryId=abe7ed0f-f63e-4b44-a33e-ae628ab153aa#.XnuS8dNKhBw