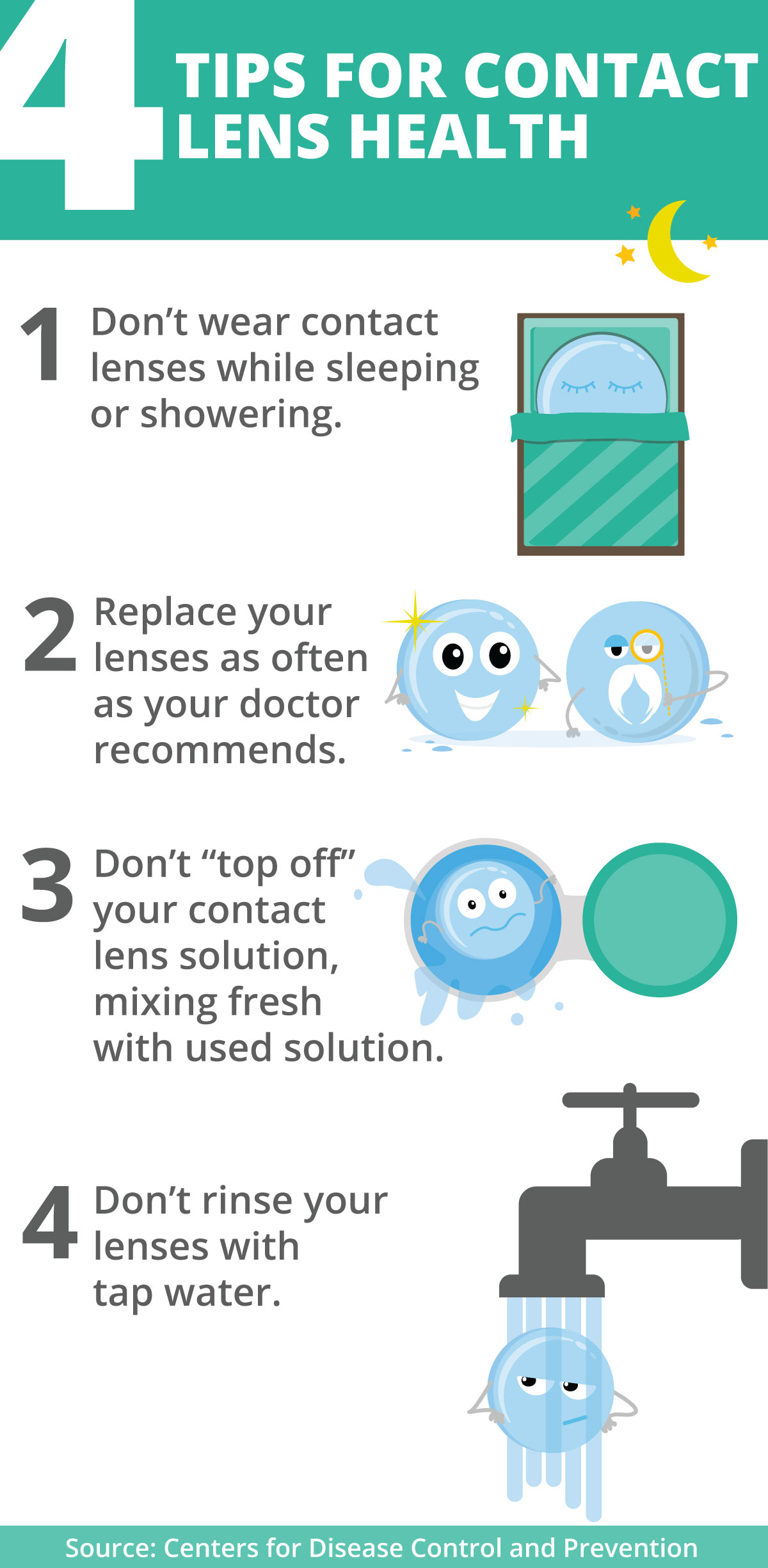 Contact lenses are very popular, with about 45 million Americans using them for vision correction. But if you wear them, improper care and use can be dangerous for your eyes. One of the biggest risks is falling asleep in them, even for a short nap.
What's the big deal? A new article in the Annals of Emergency Medicine shares six stories from the Centers for Disease Control and Prevention that show the risks of sleeping in contact lenses. Infections of the cornea are a major one. These infections, known as microbial keratitis, can lead to much bigger health problems. About 1 million people go to the doctor—or emergency room—each year due to keratitis.
Other possible risks
The six stories offer fair warning to those who might sleep in their contact lenses. In one case, a man went to his doctor for eye redness and blurry vision. It turned out to be bacterial and fungal microbial keratitis. He slept wearing his contacts 3 to 4 nights a week and also swam with them in.
In another case, a man who wore the same contact lenses for two weeks straight suffered a perforated cornea and bacterial infection. He eventually underwent a corneal transplant to save his right eye.
Most of the patients in these stories were left with permanent eye damage or vision loss. The authors of the article emphasized that sleeping in lenses is one of the riskiest behaviors for anyone who wears them. Unfortunately, it is also one of the most common.
Make proper wear a priority
Taking care of your lenses takes a little bit of work. But it's worth it to prevent potentially serious eye infections. If you do get an infection, you'll need antibiotic eye drops and multiple follow-up appointments. You may even risk permanent eye damage.
It's true that the U.S. Food and Drug Administration has approved some lenses for overnight wear. But that doesn't mean they come without the risk of infection.
So don't endanger your eyes. Check out these tips for proper contact use.
Original Source: https://pennstatehershey.netreturns.biz/HealthInfo/Story.aspx?StoryId=2164b48c-e14b-43c9-ba4d-a768c2d452c0#.XX_BdGlKiUk