To help delay and mitigate the spread of COVID-19, governments across the world are encouraging people to stay at home when possible and adopt physical distancing and special hygiene measures in public. Concurrently, health experts recognize the role of outdoor recreation and exercise in promoting mental health, physical fitness, and cognitive development. Indeed, the Centers for Disease Control and Prevention recommends daily physical activity for both children (60 minutes a day) and adults (30 minutes a day).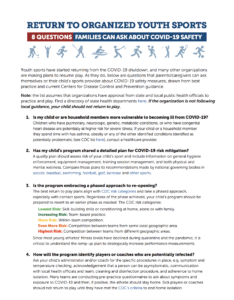 So, how can people exercise and return to play in a manner that minimizes the prospect of contracting or transmitting the virus? This general informational resource, created by the Aspen Institute with the support of medical experts, is designed to help people of all ages assess risk in a variety of common sport and recreational activities.
The CDC currently recommends no organized sports or activities, given the many challenges of containing the virus in group settings. So, priority consideration in this document is given to lower-risk forms of participation, most of which involve free play or individual training. As COVID-19 restrictions lift and organized activities return, additional insights will be added.
Two Aspen Institute programs partnered to develop this resource:
The Sports & Society Program's mission is to convene leaders, foster dialogue, and inspire solutions that help sport serve the public interest. Since 2011, the program has provided a venue where thought leadership and breakthrough strategies can be developed on a range of opportunities. Our signature initiative, Project Play, develops, applies and shares knowledge that helps stakeholders build healthy communities through sports. To learn more, visit www.ProjectPlay.us.
The Health, Medicine and Society (HMS) Program, the domestic health initiative at the Aspen Institute, seeks out bold, creative, and practical solutions to the health and medicine challenges facing the United States in the 21st century. As a magnet for some of the nation's sharpest leaders, intellects, and practitioners, HMS promotes cross-disciplinary learning, disruptive thinking, and broad dissemination of knowledge designed to build better health for all. To learn more, visit as.pn/hms.
The materials are based on CDC gidelines, and were reviewed by experts from the American College of Sports Medicine and the Hospital for Special Surgery which also offer free resources. We also thank officials at various national sport governing bodies for sharing their input.
This document is a general informational resource and should not be treated as medical or expert advice to participate in any activity. Rely on the information at your own risk, and consult the most up-to-date recommendations of federal, state and local public health officials.
Consult your own qualified health providers or other advisors about any specific issues or circumstances you might have.
Updated May 27, 2020.
GENERAL GUIDANCE
The Centers for Disease Control and Prevention (CDC) offers recommendations on how members of the public can limit the spread of the coronavirus. They currently include:
Clean and disinfect frequently touched surfaces and exercise equipment (including balls).

Thoroughly wash your hands with soap and water for at least 20 seconds, or use an alcohol-based hand sanitizer that contains at least 60% alcohol.

Wear a cloth face covering that covers your nose and mouth in public settings.

Stay at least 6 feet away from non-household members. Note: research is ongoing on appropriate physical distance for bodies in motion.

Cover your mouth and nose with tissue when coughing or sneezing.

Stay at home if you are sick.
Check local public health recommendations and mandates in your area, found on your state and local government website, before heading anywhere for a workout, especially considering local shelter-in-place and face-covering ordinances. Find a directory of state health departments here, and get the latest data on COVID-19 cases and deaths by U.S. county here.
OTHER RETURN TO PLAY GUIDANCE
RISK CATEGORIES
Risk categories are assigned relative to other ways of participating in that sport or activity, based on the latest public health and scientific understandings of COVID-19 and how it can be transmitted.
Activities are segmented into three types of risk posed both to participants and others; based on general characteristics:
Lowest Risk
Individual exercise or training at home, alone or with shared household members, with owned and sanitized equipment.
Medium Risk
Individual exercise or training in public, alone or with shared household members, with owned and sanitized equipment; individual exercise or training in public with non-shared household members physically distant.
Highest Risk
Any group play or training with non-household members not physically distant in private or public, any usage of shared equipment.
"Physical distance" is currently defined by the CDC as 6 feet away or more from a non-household member. Research is ongoing on appropriate physical distance for bodies in motion. "Household member" is defined as anyone living with you. "Shared equipment" is defined as equipment shared with or owned by non-household members.
In the current environment and consistent with the views of public health experts, The Aspen Institute recommends engagement in the lowest risk activities with the necessary safety precautions (e.g. protective gear, safe play). We also recognize that some of the highest risk activities are currently not permitted by the shelter-in-place guidance of some state and local authorities.
FITNESS AND FUN ACTIVITIES