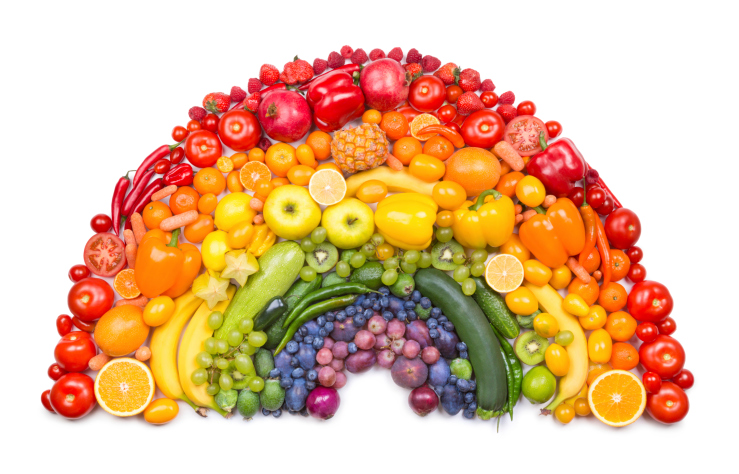 It is common knowledge that eating fruits and vegetables is good for your health. But did you know that you can get greater nutritional benefit by eating a variety of colors? The differences in color of fruits and vegetables are caused by nutrients that influence their pigmentation. Use the list and tips below to help you strive to eat the rainbow!
Try these tips to eat more color!
Eat a multicolor salad. Salads are a great way to eat a lot of colors at once. Try this flavorful and colorful Hawaiian Anuenue Salad!
Drink a smoothie. This is a great way to get multiple servings of fruits and vegetables at once. Try making a smoothie by blending three different colors–for example, a smoothie with spinach, pineapple and blueberries gets you green, yellow, and blue!
Double up. Cook two vegetables at once for additional flavor and diversity. Opt for broccoli and cauliflower; peas and carrots; peppers and onions; zucchini and eggplant; or spinach and tomatoes.
Swap pasta for spaghetti squash. It looks similar to spaghetti when cooked, but it's a vegetable. The squash and sauce provide you with two different colors. Check out this delicious recipe for spaghetti squash and marinara sauce.
Make a loaded veggie soup. Soups are a great way to eat a lot of vegetables. Try recipes like: Veggiestrone, Tuscan Vegetable Soup, or Spicy Sun-Dried Tomato Soup with White Beans & Swiss Chard.
Mix your juices. Rather than drink one glass of just one type of fruit juice, try combinations such as orange, cranberry and pineapple; apple and red grape juice; or orange, pineapple and pomegranate juice. Make sure you use 100 percent fruit juice!
Try rainbow chard. A vegetable that is already multicolor? Yes, please! You can find it in yellow, orange, red, purple, green and white. Here's a tasty recipe to guide you in cooking it: Lemon Garlic Rainbow Chard.
Stir fry veggies. Use one cup each of sliced red pepper and mushrooms, 2 cups of baby bok choy, ½ cup chopped onion, 1 tablespoon garlic, ¼ cup soy sauce and 3 tablespoons of olive oil.
Plan ahead. Wash, cut and assemble red peppers, carrots and celery as an afternoon snack. raw cucumbers and broccoli are also delicious.
Stock your fruit bowl. Keep many colors of fruit on hand like bananas, apples, pears, peaches and plums–they're great for a quick snack.
Rainbow carrots. This versatile vegetable also comes in different colors. If you're looking for a good way to prepare them, try this recipe for Roasted Rainbow Carrots.
Make a tri-color fruit salad. A few examples you could try include: strawberries, blueberries and pineapple; honeydew, cantaloupe and watermelon; or blueberries, mango and strawberries. For more fruit salad ideas, click here.
For Health Advocate Members