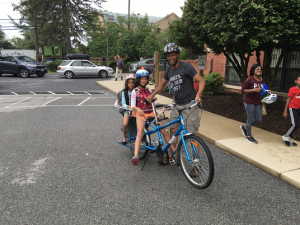 Overview
Walking, running, and bike riding are all great activities to get moving while connecting with neighbors. Get outside to explore the neighborhood with your neighbors with a weekly/biweekly neighborhood walk or bike ride. Not only are neighborhood walk and bike activities enjoyable for children, but they also allow parents to connect one another, building a more supportive community.
Take Action
Tips
Gather your group of neighbors to designate a few safe routes to walk or bike. Make sure everyone agrees of which adults are supervising and which routes they are taking. This will alleviate any stress or worry that parents may have allowing them to take turns staying home.
Plan a few walking paths that are wheelchair accessible. Invite neighbors and friends of all accessibilities to join in on the fun!
Choose a pace that works for everyone involved. Plan to have an adult at the front, middle, and end of the group, making sure all children are comfortable and accounted for.