Community Service Focused MLK Day Activities for Families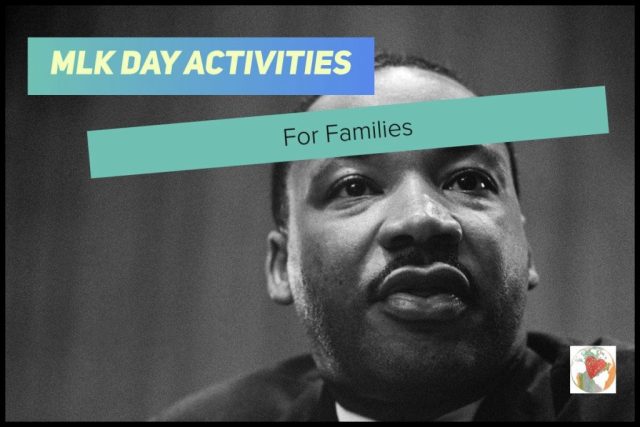 Why a day of service?
According to AmeriCorps, "MLK Day is the only federal holiday designated as a National Day of Service to encourage all Americans to volunteer to improve their communities." According to the AmeriCorps website, Dr. King recognized the power of service, something all of us have the ability to contribute. Therefore, by giving of your time and energy to help make your community a better place you are honoring Dr. King's legacy.
The site also states that the most successful projects meet a pressing need in the community while taking time with your group to reflect on Dr. King's life.
What can I do with my family?
In this era of COVID, most of us don't feel comfortable meeting up with a big group to do a huge service project. So, what MLK activities for families can you do while staying within your own safe, circle? Plenty.
Discovering the World through my Son's Eyes has some great service projects you could do with your kiddos on MLK Day. There are even a few last minute ones, like clean up a local park or plant a tree.
CNN encourages you to donate blood to the Red Cross or partner with Operation Gratitude to create care packages for service members and essential workers.
YSA (Youth Service America) has a great infographic full of ideas for youth to help their community during COVID. Some great family friendly options from their list are supporting isolated elderly (think send a card to your neighbor or drop off a meal), making and donating masks, fostering a shelter animal or just spreading around some cheer.
If you are looking for a more organized service project, check out this list of service opportunities in your area.
Race and Equality Focused MLK Day Activities for Families
Of course, you also don't want to miss the opportunity to talk with your kids about what exactly Dr. King was fighting for. We would be missing the point, in my humble opinion, if we focused just on community service and not on the root issue.
If you have young kids, think toddler-early elementary, and you haven't downloaded our free eBook, "How to Talk to Kids about Race", be sure to do so today! It is full of activities and talking points to help you have fun with your kids while fostering meaningful conversations at the same time.
This PBS article has some great talking points for kids ages 2-8 about MLK Day, race and racism.
For older kids, Teaching Tolerance has some great resources for connecting MLK Day to current events and talking about racial equality with students.
If you are an educator, and would like to add a service mindset to your classroom this semester, YSA also offers a free Semester of Service curriculum.
Great Books for Kids about Martin Luther King Jr.
*Families Embracing Diversity is an Amazon Affiliate participant. These links are affiliate links. That means if you make a purchase through one of these links, Families Embracing Diversity will receive a small commission at no cost to you. You can read the full disclosure here.
One of my favorite ways to teach kids about pretty much any issues, big or small, is through reading. Here are some great books, most with free read a louds on YouTube, to teach your kids about who Dr, Martin Luther King Jr. was and why it is so important to celebrate his life and legacy.
Books for Preschool Age
Who Was Martin Luther King, Jr.?: A Who Was? Board Book by Lisbeth Kaiser
This is a great board books for toddlers and preschool age. The message may still be a bit complex for the little guys but it is an age appropriate introduction. You can find a read aloud with the author here.
I Have a Dream by Martin Luther King Jr.
This is a beautifully illustrated representation of his iconic speech. The listing says it is best for Preschool- 3rd grade but I believe these powerful words are appropriate for any age. You can find a read aloud here to check it out for yourself.
Books for Elementary Age
My Brother Martin: A Sister Remembers Growing Up with the Rev. Dr. Martin Luther King Jr. by Christine King Farris
This is a beautiful story of Martin Luther King Jr.'s childhood written by his sister. It tells the story of their childhood adventures. She also explains the reality of their time period and what called MLK to be the great activist he is known as today. This book is best for grades 1-6. You can also find a great read aloud from Rooted and Reading.
I am Martin Luther King, Jr. (Ordinary People Change the World) by Brad Meltzer
This book is best for grades K-3. It gives an age-appropriate look into life during MLK's time and what he did to help organize people to seek change. You can find a great read aloud by Granny's Book Nook.
Martin's Big Words by Doreen Rappaport
This is a beautifully illustrated biography of Martin Luther King Jr.'s life. It is geared toward ages 6-8. You can find a read aloud by the Teacher's Library here.
Who Was Martin Luther King, Jr.? by Bonnie Bader
This biography is a bit longer and goes more in depth into the legacy of Martin Luther King Jr. It is geared toward kids 8-12. I couldn't find a read aloud for this one. At over 100 pages, it might be a little too long for that.
Online Activities for MLK Day 2021
How to Talk to Kids About Injustice workshop
This workshop will take place on January 19th at 10 am MT and is hosted by MOPs (Moms of Preschoolers) and IJM (International Justice Mission). They will discuss age appropriate ways to talk with kids about hard topics while staying grounded in love.
Be the Bridge 101- Foundational Principles Every Bridge Builder Needs to Know
This isn't a MLK Day specific course but one that Be the Bridge offers frequently. This course will run on Thursday evenings from January 24th- February 11th. However, what better way to celebrate MLK's legacy than digging deeper into your own role in dismantling racial injustice. You can sign up here.
Global Citizen's King Day Reflection
This Zoom workshop will be held on January 18th at 3pm and will be focused around the theme of "Justice and the COVID-19 Crisis.". You can find the registration link here.
Philly Children's Movement MLK Day: Dear America
This is a child centered, interactive virtual event for kids that focuses on arts, storytelling and activism. It will take place at 11am EST. You can register here.
Rebekah Gienapp is offering a workshop for kids (ages 7-11) and their grownups to learn what they can do about racism. She generally focuses on helping white families learn their role in dismantling racism. The workshops are offered in February, so it isn't specifically an MLK Day training but a great learning opportunity nonetheless.
Hopefully this list has given you plenty ideas to turn your day off into a day on and spend the day honoring the legacy of Dr. King together as a family.
Original Source: https://familiesembracingdiversity.com/mlk-day-activities-for-families/