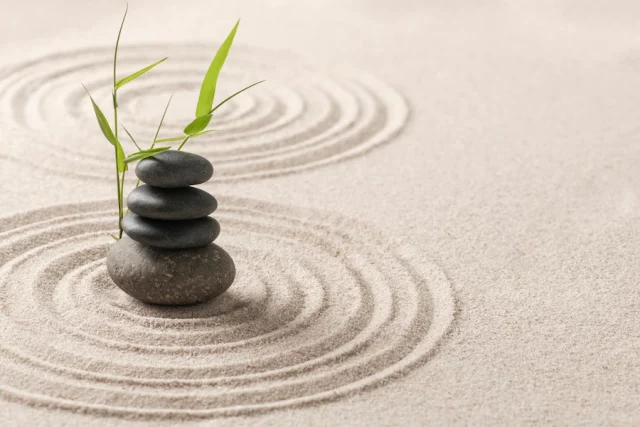 Mindfulness is quite the buzzword these days. But it's really just paying careful attention to your body, your thoughts, and what's around you. And it can give kids techniques for calming themselves down when their emotions feel out of control. Mindfulness is a simple and powerful tool to quiet the mind and deal with stress. And kids can do it, often better than adults!
Mindfulness is great for any child who has a hard time paying attention. It helps kids get a grip on their feelings and what they're thinking about. Mindfulness can help with transition times, when kids can often have trouble shifting their focus from something they're involved in to something new. It can disrupt meltdowns and stop fights.
Starting kids off with mindfulness skills early on can also make things easier for them and their teachers as they get older. It turns behavior problems into times they and their teachers can learn. Teachers learn to ask questions like, "Was that a mindful decision? Did you think about that choice?" They can also remind kids to simply stop and breathe. When kids and teachers have mindfulness language in common, they can use those skills to cope when stressful situations arise.
The ultimate goal of mindfulness is to teach kids and teens to have awareness of their emotions and then to learn how to better control them.

Carole Clancy, who supervises special education for the Lancaster, Pa., city schools, had a serious problem: She couldn't hold on to her teachers. The students in special ed classes were distracted and disruptive. "They had the reputation of being unmanageable and out of control," she says. But that was before they started learning mindfulness in the classroom.
When Wynne Kinder, lead instructor for the mindfulness program "Wellness Works in Schools," walks into Kristina Suter's special ed classroom at Lincoln Middle School in Lancaster, the group of sixth, seventh and eighth graders is already moving tables out of the way and spacing chairs out in rows for what the school refers to as "social skills" class.
"There are always one or two who are very reluctant to come and sit," says Kinder. "Transitions are hard for many of these kids. Very often I will start by sharing a personal story related to the topic—resilience, for example." The story draws the kids in. It's all about making a connection. Then she rings the chimes. "I ask them to notice what their mind does with the sound."
With their eyes closed, the students then focus on their posture. "I ask them to sit in seated mountain to add dignity and strength," she says. "I work with them on what your posture says to you about you and then what your posture says to the world." Many of Kinder's exercises relate to the subtleties of different kinds of attention. Attention to breath, to how different parts of their bodies feel, how their feet connect to the floor, their seats to their chairs.
Learning to control their attention
And all of it is very concrete and very much rooted in the present moment. "It's about developing attentional control," she says. Kinder ends every class with "deep quieting" because, she says, "if you can quiet yourself and get yourself to a place where your mind is settled, that is a great tool to have."
Suter is convinced that teaching mindfulness is helping her kids—particularly the ones who suffer from anxiety. And there are many. "Often they're worried about everything else that's going on," Suter says. "What's going to happen later. They have trouble focusing on the moment. The mindfulness brings them back into the present moment so they can learn."
Rick Kinder, Wynne's father, is the cofounder of "Wellness Works in Schools" and he has been bringing the mindfulness program to Lancaster County's low-income, inner-city schools for 11 years. "We're being hired where the need is the greatest," he says, "in classes where there are kids who have ADHD, who've suffered from trauma, or are on the autism spectrum.
"Once the kids feel that they can actually calm themselves even just through breathing it's like the 'wow' moment," he adds. "The ultimate goal is self-awareness and self-regulation."
Creating calmness in the classroom
Kinder was one of the first to bring mindfulness to a school setting. But he learned early on not to use the terms yoga and meditation, both closely associated with mindfulness, in schools Kinder Associates serves. "I don't think it's understood, the word 'mindfulness.' It does have its roots in Buddhism but you go into a principal's office and say, 'I'm bringing yoga in here,' and they say, 'Not in my school.' "
Whatever he calls, it, the results of Kinder's program speak for themselves, educators say. "It creates a calmness in those classes," says Clancy. "Students learn how to self-regulate their behaviors. They are avoiding conflict, avoiding situations that might get them into trouble."
Two different studies done by Cheryl Desmond, PhD, and Laurie Hanich, PhD, of middle school children who had taken the "Wellness Works in Schools" course showed significant gains in self-regulation and executive function. And Lisa Flook, PhD, a researcher at the Center for Investigating Healthy Minds at the University of Wisconsin, has found that kids who have the most difficulty with self-regulation are the ones who most benefit from a mindfulness-based program.
Helping kids manage stress
"If we can get the kids who have the most trouble," says Randy Fernando of Mindful Schools, the Oakland, California-based program that brings mindfulness classes to grades K-5 in mostly low-income schools, "it helps them, it helps the teachers, and for a lot of these kids it's the first time they've felt peace."
That doesn't mean, however, that mindfulness can't be enormously helpful to children and adolescents in the general population for dealing with the everyday difficulties of today's super-charged, highly stressful kid-life.
Mindfulness reached the tiny island of Nantucket (permanent population approximately 10,000) just a few years ago when it was introduced to the Nantucket New School, an independent day school that goes from pre-K through grade 8. It was in part that tight-knit community's effort to respond in a meaningful way to four teenage suicides that had occurred in less than two years. "We realized we could help kids gain tools for stress management at an early age that would transfer into teenage years and adulthood," says Lori Corry, the school's business manager and a passionate proponent of mindfulness. After researching several different programs, a committee devoted to student wellness at the school chose the Hawn Foundation's MindUP, a mindfulness-based social and emotional learning curriculum. "The hope is to help kids manage their own stress as they turn into grownups."
Clearing your pre-frontal cortex
If second grader Sally Laurencelle is any indication, the MindUP program is making headway. One night not long ago Sally, her brother Addie Jr., 11, sister Gabrielle, 9 and Sally's parents were sitting at the dinner table when Sally's brother and sister started bickering. "It escalated and Gabrielle just lost it," says Sally's dad, Addie. "She was screaming and crying. It was a real melt down." Until Sally stepped in. "I almost fell out of my chair," Addie says. "Cool as can be Sally said, 'Gabrielle, you need to take a deep breath and clear your pre-frontal cortex. You'll feel much better.' And the thing is she totally understood what she was talking about. She said, 'We talk about it at school all the time.' It was jaw-dropping."
All the teachers at the school are trained in the program and they practice mindfulness themselves during the school day. "Our faculty meetings all start with three minutes of quiet breathing," says Dennie Doran, head of the Upper School at the Nantucket New School and a teacher there." Our head of school rings the chime and we just all relax and take some deep breaths and stop what we're doing and then we start the faculty meeting." She also has the same mindful app—"Take a Chill"—on her phone that she recommends to her students.
Discipline problems become teachable moments
Doran, who has been at the school for nine years, says she definitely sees a "before" and "after" effect since they began teaching mindfulness. "We have a common language from the 3-year-olds to the 14-year-olds. 'Was that a mindful decision?' 'Did you think about your choice?' 'Stop and take a breath.' So that by the time the lower school gets to the upper school we're dealing with teachable moments instead of discipline problems. They're learning self-awareness and then making choices based on that self-awareness."
Original Source: https://childmind.org/article/mindfulness-in-the-classroom/