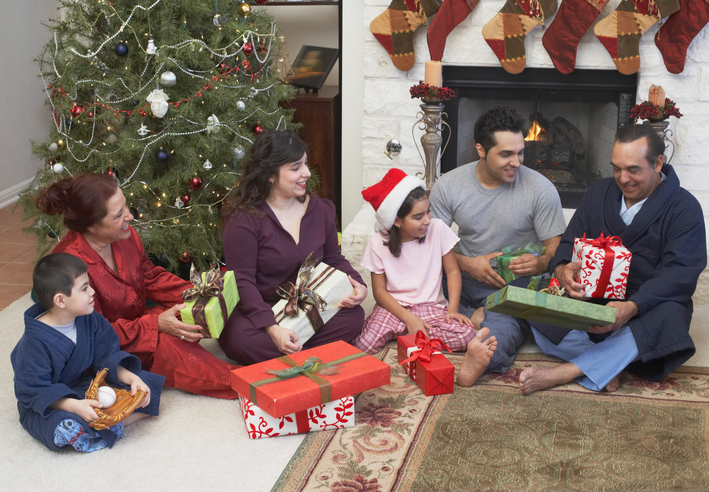 3 min read
Holidays are meant to be spent with family and friends, not in the waiting area of an emergency room. Here are some simple tips for avoiding common holiday medical emergencies:
Wear a seat belt every time you drive or ride in a motor vehicle. Always buckle your child in the car using a child safety seat, booster seat, or seat belt according to his/her height, weight, and age. And never drink and drive, or ride in a car with someone who has been drinking.
Be mindful of food allergies. If you know you have a food allergy, going to a holiday meal can be a stressful time. A good way to prevent an allergic reaction is by communicating with the host that you have a food allergy ahead of time so that they can prepare the meal accordingly. Here are some other great ideas.
If you have small children or pets, be sure to keep decorations like hanging lights or glass ornaments out of their reach. And remember that some seasonal plants like poinsettias and mistletoe can be toxic if ingested. For more information about what types of plants or decorations may be harmful, go here.
Pay attention to your body. For example, don't ignore signs of chest pain. More heart attacks occur during the winter. Sudden drops in temperature and decreased daylight can affect cardiovascular health—especially if you already have high cholesterol, hypertension or other risk factors.
If you haven't done so already, get a flu shot. The flu vaccine protects against the influenza virus, a serious disease that can lead to hospitalization and is sometimes even fatal.
Stay safe during outdoor activities. Make sure your child wears proper protective equipment like a helmet and gloves if they are doing any winter sports or activities. If they are going out to play in the snow, make sure they wear multiple layers and insulated, waterproof coats and pants, plus appropriate headwear (a winter hat or earmuffs). And if you're joining them for these activities, you should also wear appropriate winter attire. Here are some more great winter sports safety tips.
Fire safety. It's not just the deep-fried turkeys that pose a danger during the holidays. Dry Christmas trees are also fire hazards. Be sure to keep trees watered consistently and positioned away from heat sources like air vents and fireplaces. Lighting decorative candles also poses a risk; consider purchasing a few festive battery-operated candles instead.
No matter what fun activities you do this holiday season, from decorating to spending time outdoors, keep safety top of mind. And remember: If you or a family member has a serious illness or injury, seek medical attention immediately.
Original Source: http://blog.healthadvocate.com/2016/12/how-to-stay-out-of-the-er-over-the-holidays/