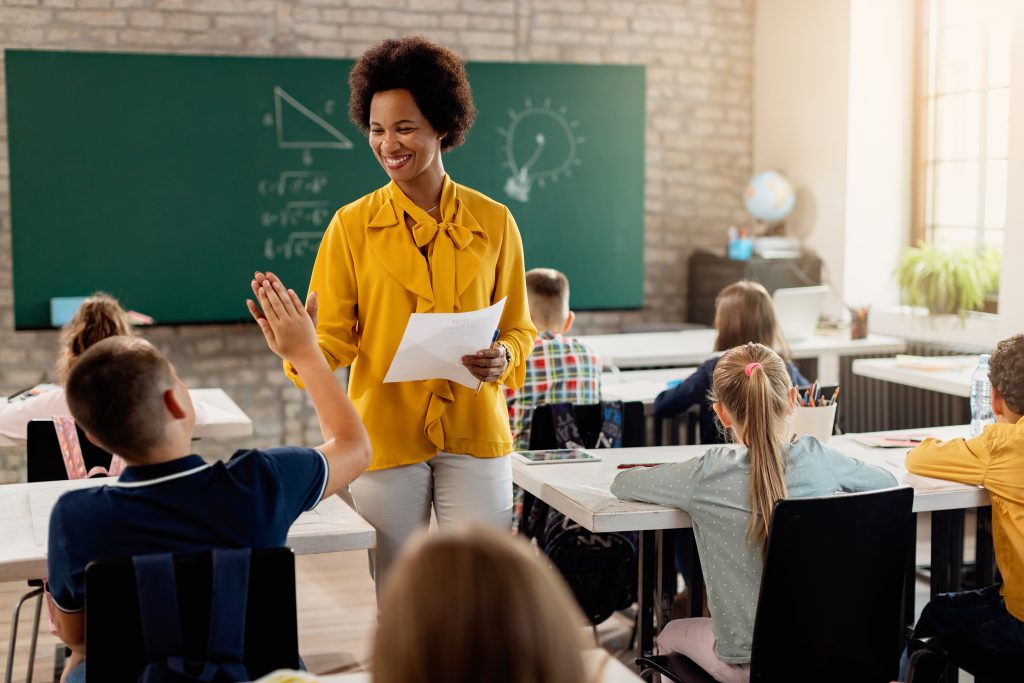 Sometimes, teaching is more like bombardment: Grading hundreds of essays, placating disgruntled parents, accommodating learning needs, sweating out the principals' nerve-wracking classroom observation. And then there are the stressors of life beyond the classroom.
Being a teacher can be tough. It is rewarding but also overwhelming and, at times, can take a personal and professional toll.
But that doesn't have to be, explained educator Justin Ashley in the edWebinar, "Catching Happiness: How to Work Through Burnout and Be a Joy-Filled Teacher," sponsored by Free Spirit Publishing. Ashley shared ways teachers can counteract burnout to build socio-emotional health and increase happiness.
Ashley was a burnout victim. His fallout was severe: He became addicted to prescription drugs, wasn't spending time with his family, didn't sleep enough, and finally landed in rehab, his life having come undone. His is a cautionary tale for teachers. How do they walk the fine line between professional and personal well-being?
They start, explained Ashley, by understanding that happiness is made up of relationships, financial stability, professional satisfaction, and physical and mental health.
Making Learning Exciting
Nurturing excitement in the classroom builds professional satisfaction, said Ashley. Switching up teaching styles to find more creative and interactive ways to engage students encourages them to become part of the learning process.
Students, emphasized Ashley, fall in love with the "remarkable, exceptional, new, and interesting content" so much they enjoy coming to school. Turns out, it has the same effect on teachers.
Behavior Management
Rules provide the consistency that children need. But if they aren't based in mutually respectful relationships, they lose their value.
Ashley relies on Gary Chapman and Ross Campbell's book, The 5 Love Languages of Children, which highlights what young people need to form respectful connections, to drive the way he shapes his relationships with students around these languages:
Affirmation: Pointing out positives so students know that they're doing the right things.
Quality time: Encouraging student participation in group activities and providing opportunities for interaction with others during recess or in the cafeteria, for example, to give children time and space in which to form bonds.
Physical touch: Giving children fist bumps and high fives, for example.
Personalized gifts: Rewarding prizes, such as colored pencils, playing cards, and even a lollipop can help to create connections.
Acts of service: Doing good for students to demonstrate care and concern.
Stating Your Personal Creed
Figuring out personal and professional priorities helps teachers to remained balanced. This requires finding answers to questions-to-self in four key areas:
Style: What lifestyle do I want to have? What style do I have when it comes to teaching and living?
Values: What are really the most important aspects of my life? What's at the top of the priority, and what's not at the top?
Joy: What do I enjoy doing the most? Where do I find myself laughing and smiling and losing a sense of time and place?
Legacy: What do I want to leave in this world?
Family and Friendship
Quality time with family, especially children, is crucial to personal well-being. Ashley follows the advice of parent expert Amy McCready who recommends parents blocking out at least 15 minutes a day to spend with their kids without cell phones, computers, or video games in the mix.
It's equally as important to not be isolated from friends who substantially contribute to a person's well-being.
Financial happiness
Teachers' salaries can be limiting. Ashley recommended budgeting, wise spending, saving, and investing, and establishing an emergency fund to greatly reduce financial anxiety that can erode emotional health.
Physical and Mental Health
Ashley urged teachers to monitor and address the following issues in order to be the best they can be in mind, body, and spirt:
Sleep: Teachers don't get enough sleep, affecting how they function in the classroom. Avoiding caffeinated and sugary drinks after 12 PM; eliminating schoolwork and technology in the bedroom at night; wearing blue-light blocking glasses when watching TV; and lowering room temperature by two-three degrees before jumping into bed are among research-based actions that improve sleep habits.
Anxiety: Fear, worry, rumination eat away at teachers' emotional stability. Often, they fret about issues that can be positively addressed. Flipping to the benefits of a potentially negative situation reduces anxiety. Stressing over a principal's review of your teaching? Value any feedback in order to improve.
Depression: This is common among teachers and becoming more prevalent. A bonafide chemical imbalance triggers depression, which is exacerbated by poor eating habits, social isolation, and failure to compartmentalize. Teachers can consider working with a mental health provider to deal with depression.
Exercise: Working out at least 30 minutes three times a week uplifts your mood and puts you in a better mental state. Going to a gym is one option but riding a bike, playing a sport, hiking…all are good for the body and mind.
Ashley assured that rebuilding, renewal, and reinventing are possible. The Japanese, he explained, call this process "kintsugi," the act of gluing back together broken pieces of pottery with a golden lacquer that makes the piece even more beautiful than when first created. Teachers, he said, should ask themselves how to beat burnout and rebuild their lives with gold.
Original Source: https://home.edweb.net/balancing-teaching-and-happiness/