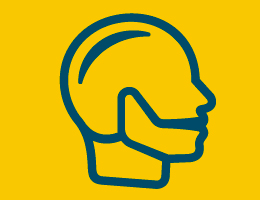 Thinking about buying an oral appliance, such as a bite guard, to help manage your painful TMJ? You might want to try other treatments first. These can be as simple as applying a warm compress to your face, a new study in the journal Clinical Oral Investigations suggests.
TMJ (short for temporomandibular joint and muscle disorders) refers to a group of conditions that affect the jaw joint and jaw muscles. TMJ (sometimes called TMD) affects more women than men, the National Institute of Dental and Craniofacial Research (NIDCR) reports. A common symptom of TMJ is jaw pain. To manage this pain, many people turn to devices such as oral splints and bite guards. The authors of this study wanted to know if it might be better to try other, self-care measures first. To find out, they asked women with TMJ about the various methods they used to treat their facial pain. More than half of the women used oral appliances.
Overall, the women reported getting the most relief from self-care treatments, such as jaw exercises, meditation, massage and warm compresses. A few women said their oral appliances actually made their pain worse, though the researchers don't know why.
Less is more
When it comes to treating TMJ, "less is often best," according to the NIDCR. And these latest research findings seem to back up that advice.
So, if you have TMJ, you might want to talk with your doctor about what you can do to feel better before thinking about more complex (and potentially more costly) treatments, like an oral appliance, the research team suggests.
The good news, says the NIDCR, is that the pain of TMJ is typically occasional and temporary. It often gets better with only a little treatment or sometimes on its own.
In the meantime, according to the NIDCR, some people with TMJ might want to try:
Eating soft foods.
Using ice packs.
Avoiding extreme jaw movements (such as wide yawning and gum chewing).
Short-term use of over-the-counter pain medicine, such as nonsteroidal anti-inflammatory drugs (NSAIDs).
The NIDCR also suggests that you try to avoid:
Treatments that cause permanent changes to the bite (how the teeth come together) or the jaw. These include certain types of dental work or splints.
Surgery for TMJ, if possible. If you are thinking about having surgery, be sure to discuss the risks with your surgeon, and consider a second opinion, the NIDCR recommends.
Original Source: https://pennstatehershey.netreturns.biz/HealthInfo/Story.aspx?StoryId=2f30948b-20d9-4291-b3b8-6b42cf82756e#.XX_Ha2lKiUk