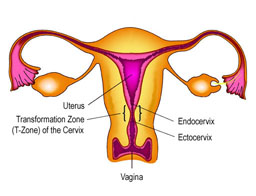 Cervical cancer is cancer that starts in the cervix, the narrow opening into the uterus from the vagina. The normal "ectocervix" (the portion of the uterus extending into the vagina) is a healthy pink color and is covered with flat, thin cells called squamous cells. The "endocervix" or cervical canal is made up of another kind of cell called columnar cells. The area where these cells meet is called the "transformation zone" (T-zone) and is the most likely location for abnormal or precancerous cells to develop.
Most cervical cancers (80 to 90 percent) are squamous cell cancers. Adenocarcinoma is the second most common type of cervical cancer, accounting for the remaining 10 to 20 percent of cases. Adenocarcinoma develops from the glands that produce mucus in the endocervix. While less common than squamous cell carcinoma, the incidence of adenocarcinoma is on the rise, particularly in younger women.
More than 13,000 women in the United States will be diagnosed with cervical cancer each year, and more than 4,000 of women will die. Cervical cancer is the fourth most common type of cancer for women worldwide, but because it develops over time, it is also one of the most preventable types of cancer. Deaths from cervical cancer in the United States continue to decline by approximately 2 percent a year. This decline is primarily due to the widespread use of the Pap test to detect cervical abnormalities and allow for early treatment. Most women who have abnormal cervical cell changes that progress to cervical cancer have never had a Pap test or have not had one in the previous three to five years.
Cervical cancer tends to occur during midlife. It is most frequently diagnosed in women between the ages of 35 and 44. It rarely affects women under age 20, and more than 15 percent of diagnoses are made in women older than 65. But in women over 65, cancer typical occurs in women who were not receiving regular screening.
What causes cervical cancer?
Human papillomavirus (HPV) is found in about 99% of cervical cancers. There are over 100 different types of HPV, most of which are considered low-risk and do not cause cervical cancer. High-risk HPV types may cause cervical cell abnormalities or cancer. More than 70 percent of cervical cancer cases can be attributed to two types of the virus, HPV-16 and HPV-18, often referred to as high-risk HPV types.
HPV is estimated to be the most common sexually transmitted infection in the United States. In fact, by age 50 approximately 80% of women have been infected with some type of HPV. The majority of women infected with the HPV virus do NOT develop cervical cancer. For most women the HPV infection does not last long; 90% of HPV infections resolve on their own within 2 years. A small number of women do not clear the HPV virus and are considered to have "persistent infection. A woman with a persistent HPV infection is at greater risk of developing cervical cell abnormalities and cancer than a woman whose infection resolves on its own. Certain types of this virus are able to transform normal cervical cells into abnormal ones. In a small number of cases and usually over a long period of time (from several years to several decades), some of these abnormal cells may then develop into cervical cancer.
Symptoms of Cervical Cancer
Precancerous cervical cell changes and early cancers of the cervix generally do not cause symptoms. For this reason, regular screening through Pap and HPV tests can help catch precancerous cell changes early and prevent the development of cervical cancer.
Possible symptoms of more advanced disease may include abnormal or irregular vaginal bleeding, pain during sex, or vaginal discharge. Notify your healthcare provider if you experience:
Abnormal bleeding, such as

Bleeding between regular menstrual periods
Bleeding after sexual intercourse
Bleeding after douching
Bleeding after a pelvic exam
Bleeding after menopause

Pelvic pain not related to your menstrual cycle
Heavy or unusual discharge that may be watery, thick, and possibly have a foul odor
Increased urinary frequency
Pain during urination
These symptoms could also be signs of other health problems, not related to cervical cancer. If you experience any of the symptoms above, talk to a healthcare provider.
Cervical Cancer 101
For an overview of HPV and cervical cancer, click here to view the slides from a presentation made by Dr. Lois Ramondetta at the 2013 NCCC National Conference. Dr. Ramondetta is a Professor of Gynecologic Oncology at the M.D. Ander Cancer Center in Houston, TX, and the Chief of the Division of Gynecologic Oncology at the Lyndon Baines Johnson Hospital, also in Houston.
Big Changes! New HPV Vaccine Protocols and Update to Cervical Cancer Screening Guidelines
Since our last podcast update on HPV and cervical cancer some big changes have occurred: HPV vaccination has been approved for use with males and females through age 45 and updated cervical cancer screening guidelines now include an option for HPV primary testing (translation: an HPV test done alone without a Pap as a co-test).  In this episode Ina Park, MD, breaks all of this down and peeks at a future where we might actually be able to discuss the elimination of cervical cancer. Dr. Park is an associate professor at the University of California, San Francisco School of Medicine, Department of Family and Community Medicine.
Original Source: https://www.nccc-online.org/hpvcervical-cancer/cervical-cancer-overview/
Cervical Health Awareness Month
What is Cervical Health Awareness Month?
The United States Congress designated January as Cervical Health Awareness Month. Nearly 13,000 women in the United States are diagnosed with cervical cancer each year, but the disease is preventable with vaccination and appropriate screening (Pap and HPV tests).
During January, NCCC and its many local chapters across the country highlight issues related to cervical cancer, HPV disease and the importance of early detection. While NCCC chapters host events throughout the year, January is a month with a special focus as chapters celebrate Cervical Health Awareness Month and work to spread the word in their communities.
NCCC and the American Sexual Health Association (ASHA) also offer a range of resources (listed below) to educate the public and healthcare providers about cervical health, from fact sheets to episodes of ASHA's Sex+Health podcast.
What Can You Do?
As someone who is interested in educating and advocating for increased knowledge of cervical cancer and HPV disease, you can do a lot. You can contact your local media to encourage coverage of Cervical Health Awareness Month, offering this ASHA/NCCC press release. You can also send this proclamation to your mayor, or local legislative office to publicly recognize Cervical Health Awareness Month.
You can also check out the resources on this page, from fact sheets to episodes of ASHA's Sex+Health podcast, to educate yourself and others. Download, display and distribute our cervical cancer awareness month posters and help NCCC and ASHA get the word out on social media.
VACCINATION
HPV vaccines can help prevent infection from both high risk HPV types that can lead to cervical cancer and low risk types that cause genital warts. The CDC recommends all boys and girls get the HPV vaccine at age 11 or 12 as the vaccine produces a stronger immune response when taken during the preteen years. For this reason, up until age 14, only two doses are the vaccine are required. The vaccine is available for all males and females through age 45 but, for those 15 and older, a  full three-dose series is needed.
TESTING
A Pap test can find cell changes to the cervix caused by HPV. HPV tests find the virus and help healthcare providers know which women are at highest risk for cervical cancer. Pap and HPV tests (either alone or in combination) are recommended for women over 30: each woman should ask her health care provider how often she should be screened and which tests are right for her.
Facebook Live
The HPV vaccine is now approved for males and females through age 45 and NCCC hosted a Facebook live discussion to cover what you need to know about the expanded age range.
Promote Cervical Health on Social Media
You can help NCCC promote the importance of cervical health and cervical cancer prevention by sharing prevention messages throughout the month that cervical cancer is preventable!
Original Source: https://www.nccc-online.org/hpvcervical-cancer/cervical-health-awareness-month/