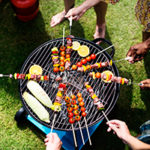 Whether you use propane or charcoal, a small hibachi or a deck-wide contraption, summertime is synonymous with grilling. The smells of sizzling burgers and lighter fluid often waft through neighborhoods, and no grill session is complete without roasting sweet marshmallows. (Do you prefer your marshmallow golden or burnt to a crisp?)
And know that when you light up your grill this month, you'll be part of the ongoing celebration of National Grilling Month.
To keep you safe and your food delicious, follow these steps during your next grill out:
Let your meat sit at room temperature prior to cooking for up to 30 minutes to decrease cooking time.
Season your foods liberally.
Choose additive-free charcoal—which is just charred wood.
Give your grill plenty of time to preheat.
Oil your grill top.
Skewer smaller pieces of meat and fish to speed up cooking time.
Press an indent into your burger patties to ensure they don't bulge in the middle.
Rest meats prior to cutting and serving to juices can redistribute.
If marinating tofu, add oil to the marinade to ensure the tofu doesn't stick to the grill.
Don't let the confines of a grill-top stop you: You can cook just about anything on the grill—far beyond burgers and hot dogs. Inside foil packets, you can create perfectly melty cheesy fries, or you can put pizza dough right on the grill for a unique pizza experience. Beyond s'mores, you can grill slices of pre-made pound cake or even sliced doughnuts—top with ice cream for an epic sundae! Fruits like peaches, nectarines or even avocados are delectable with grill marks. Hungry?
Now, grab your spatula and apron, and start grilling! Want more delectable observances? Check out SNA's yearly promotional calendar! Visit www.schoolnutrition.org/PromoCalendar.
Original source: https://schoolnutrition.org/news-publications/news/2019/sn-promotion-calendar-national-grilling-month/