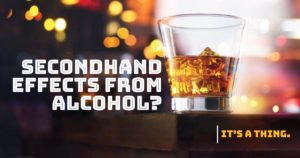 Just as tobacco smoke can hurt a nonsmoker's health, the secondhand effects of alcohol use—such as being harassed by someone who's had too much to drink or being injured by a drunk driver—often harm those other than the drinker, a new study finds.
It found that each year, 1 in 5 adults is harmed in some way because of someone else's drinking.
The researchers looked at U.S. national survey data from 8,750 adults. According to this analysis, an estimated 53 million people each year are harmed by other people's drinking. These problems can include:
Driving-related incidents.
Money or family problems.
Physical aggression.
Threats or harassment.
Vandalism or ruined property.
Data shows gender differences
Women reported more financial and family problems. Men reported more property damage and acts of aggression.
Sources of harm also tended to differ by gender, the researchers found. Women were often harmed by a male in their own home who drank heavily. For men, the risk often came from someone outside the family.
Other key findings from the study included:
Those under 25 were more likely to be harmed by someone else's drinking.
Drinkers were also at higher risk from harm by another person's drinking, when compared to nondrinkers. This was true for both heavy drinkers (defined as having five or more drinks at a time for men and four or more at a time for women, at least once a month) and those who drank but not heavily.
The study was published in the Journal of Studies on Alcohol and Drugs.
When it's too much
Besides risky behaviors and personal problems, unhealthy drinking patterns are linked to a number of health conditions, including cancer, liver disease and heart problems. Learn more about the dangers of excessive drinking.
Worried you have a drinking problem? Take this four-question assessment. Be sure to share any concerns with your healthcare provider.
Original source: https://pennstatehershey.netreturns.biz/HealthInfo/Story.aspx?StoryId=2a92b871-8598-4310-af7d-9590cc7b5b0e#.XoJGU9NKhBw