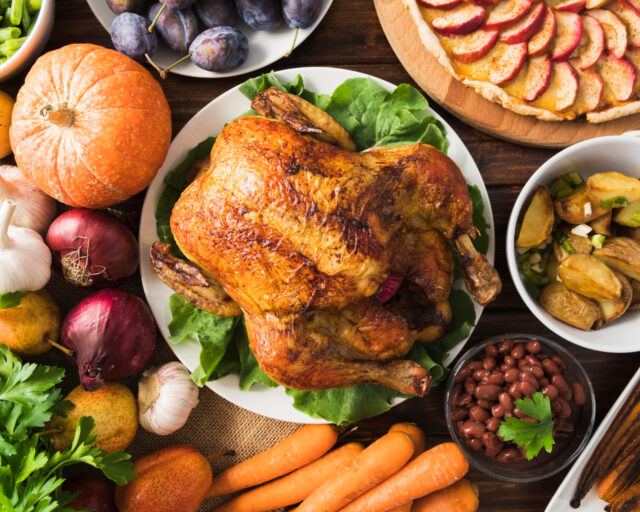 Thanksgiving is a wonderful time of the year — one when friends and family gather to enjoy a grand meal under one roof. But, the holiday season can also bring with it some unwanted accidents and injuries. To avoid those, here are the best Thanksgiving safety tips all homeowners should follow.
Thanksgiving Safety 101: How to Stay Safe on Turkey Day
With Thanksgiving just around the corner, homeowners are scrambling to get their plans in order. Whether you're inviting guests over or traveling someplace else for Turkey Day, safety should remain a top priority.
Consider the following Thanksgiving safety tips this holiday season:
1. Stay Alert in Your Kitchen
If you're preparing a Thanksgiving feast, chances are you'll be spending most of your day in the kitchen. When you're dividing your time (and attention) among so many dishes, it's easy to miss a few things here and there. Before you know it, something will boil over or start to burn on the stove or in the oven.
According to the National Fire Protection Association, home cooking fires occur mostly on Thanksgiving Day. As such, it is important to always stay alert when you're in the kitchen. Don't leave anything unattended for too long, and make sure to keep any flammable objects far away from the stove or oven. If you're putting out candles to decorate the dinner table, space them out so they don't light anything on fire.
Fire safety is a top priority. Educate yourself on how to put out small fires so that you're not left panicking when it actually happens. Have a fire extinguisher handy as well!
2. Deep-Frying? Do It Outside
There are a number of ways to prepare your turkey — and one of them is deep-frying. A deep-fried turkey definitely tastes good, but you have to make sure you take steps to ensure everyone's safety during the cooking stage.
Turkeys are huge, and they will need a large pot of oil to deep-fry thoroughly. Therefore, it's best to deep-fry your turkey outside of your house and away from anything that can easily catch on fire. That means no deep-frying near vehicles, too.
Before you deep-fry the turkey, see to it that it is thawed completely. Dry it off with paper towels, as excess moisture can cause oil to splatter wildly. This will help reduce the chances of grease splashing out of the pot and starting a fire.
Even if you're outdoors, a fire extinguisher comes in handy. As with the first tip, always stay alert when you're deep-frying a turkey. Always have someone on standby to pay attention to the turkey as it cooks.
3. Avoid Food Poisoning
When people think about Thanksgiving safety, fire prevention often comes to mind, and rightly so. But, many disregard the risk of food poisoning in the process.
If you're throwing a Thanksgiving party at your house, the last thing you want is to give your guests food poisoning. The best way to prevent this from happening is to practice proper hygiene and cooking. Wash your hands before and after prepping food. Fruits and vegetables should also undergo a thorough washing. The same goes for all dishes, utensils, and surfaces you're using.
Make sure your turkey and all other dishes are cooked properly. Use a food thermometer to determine whether or not your turkey is fully cooked. For any leftovers, store them in tightly sealed containers. Never let them sit out for too long.
4. Be Careful with Knives
Knives are used throughout the cooking and serving process during Thanksgiving. From cutting up ingredients to carving your turkey, there is always a risk of injury from sharp objects.
To avoid cuts and lacerations, make sure to handle knives sober and with care. Don't let kids cut or slice anything, especially without adult supervision. It's also a good idea to clean the kitchen as you go. Don't leave knives and other sharp objects out in the open if you're not going to use them. It's also best not to let the kitchen get too crowded.
5. Maintain a Tidy Home
Aside from cooking-related hazards, Thanksgiving parties can also give rise to slip-and-fall accidents. When you have too much clutter lying around, your guests can trip over them and injure themselves. Thus, it is important to clean up your mess before the big get-together and during the party, as well.
Spills are also bound to happen at some point during the event. In that case, make sure to clean them up immediately to prevent slippery floors. All pathways should also have proper lighting, especially outside. This way, everyone can have a safe and happy time.
6. Arrange Parking Ahead of Time
Car accidents happen all the time, but even more so with increased traffic. If you're hosting a Thanksgiving dinner, make sure to arrange parking for your guests ahead of time. Let them know before they arrive where they should park. If need be, have someone tend to guests outside the day of.
When organizing parking, it's best to have everyone park on one side of the street. This way, you won't block other cars passing by. If you have neighbors with extra parking space, ask them if you can have your guests use them for just one night. This can also help neighbors who are away by having it seem like they're home, thus, decreasing the chances of break-ins.
7. Secure Your Home
If you're going to someone else's house for Thanksgiving, it's imperative that you secure your home. Burglaries happen a lot during this time of the year as more people leave their homes unattended.
To safeguard your home and belongings, it's a good idea to install a home security system. This will help you not only during Thanksgiving but also year-round. Even a simple security camera can help deter thieves.
It also helps to make it seem like you're home even when you're not. You can do this by leaving some of your house lights open or on a timer. You can also ask your neighbor to park one of their cars in your driveway and keep a watchful eye out for anything suspicious.
A Safe Thanksgiving Is a Good One
Thanksgiving might be a time to catch up with family and friends, throw your diet plans out the window, or simply enjoy the company. But, that doesn't mean you should be careless. By adopting these Thanksgiving safety tips, you can ensure a fun time for you and your guests while simultaneously keeping everyone out of harm's way.
Original Source: https://www.cedarmanagementgroup.com/thanksgiving-safety-tips/