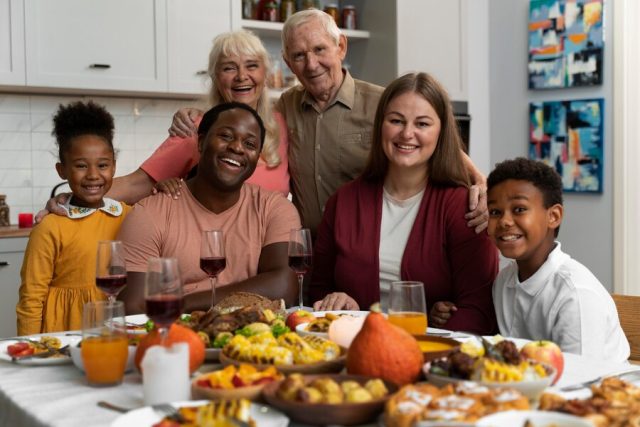 Whether celebrating Thanksgiving with every one of your family members and friends or keeping it small, we are sure you have the menu planning and turkey ordering under control. Despite the meal being the show's star, there is still more to Thanksgiving day than enjoying a large, delicious dinner with family. We've pulled together a list of activities to keep you and your family and friends busy. Here are things to do on Thanksgiving before the bird comes out of the oven and even long after you've finished washing the last dish.
Take a Post-Meal Walk
The simplest of activities might be our favorite. After you've enjoyed seconds and thirds, grab the family and your walking shoes for a trip around the neighborhood. Instead of falling asleep on the couch, add some liveliness to the day by taking a quick walk—it's good for the body and soul. Bundle up and enjoy the Christmas lights that a few neighbors couldn't wait any longer to put up!
Play a Board Game
The day is about family. Rather than get lost in your phones or the latest Netflix series, huddle up for good old-fashioned fun. Whether you opt for a classic like Monopoly or a modern twist on charades with Guesstures, playing a board game with family and friends is sure to make you laugh. Plus, you'll make some lasting memories, too.
Video Chat with Family
Even though you desperately wish everyone could attend the same get-together, sometimes it's not possible. Whether calling cross-country or just in-laws a town over, it's always great to connect with loved ones on Thanksgiving. Schedule a time for a video chat and check up on how everyone is celebrating this holiday.
Give Thanks at the Table
For some, saying prayers precede any of the food festivities. Take this time to work your way around the table, allowing everyone to share thankfulness and gratitude for the day. If you have little ones in the family, we guarantee you're in for a treat with what's in their hearts and on their minds.
Get Creative with Thanksgiving Coloring Pages
Sure, at first read, this may lean towards a kid-activity. But adult coloring books are very much a thing. Print some holiday-themed coloring pages in advance and set up a little coloring station. This activity is another great way to bring everyone together in a screen-free environment.
Craft a Family Tree
We're not suggesting you go all Ancestry.com (although how cool is that),but pulling together a visually creative display can be fun on a day rooted in family. It's also an excellent way to remember the loved ones who can't be with us on the day.